30 June 2018

Brands Should Stop Asking for Feedback and Start Listening To It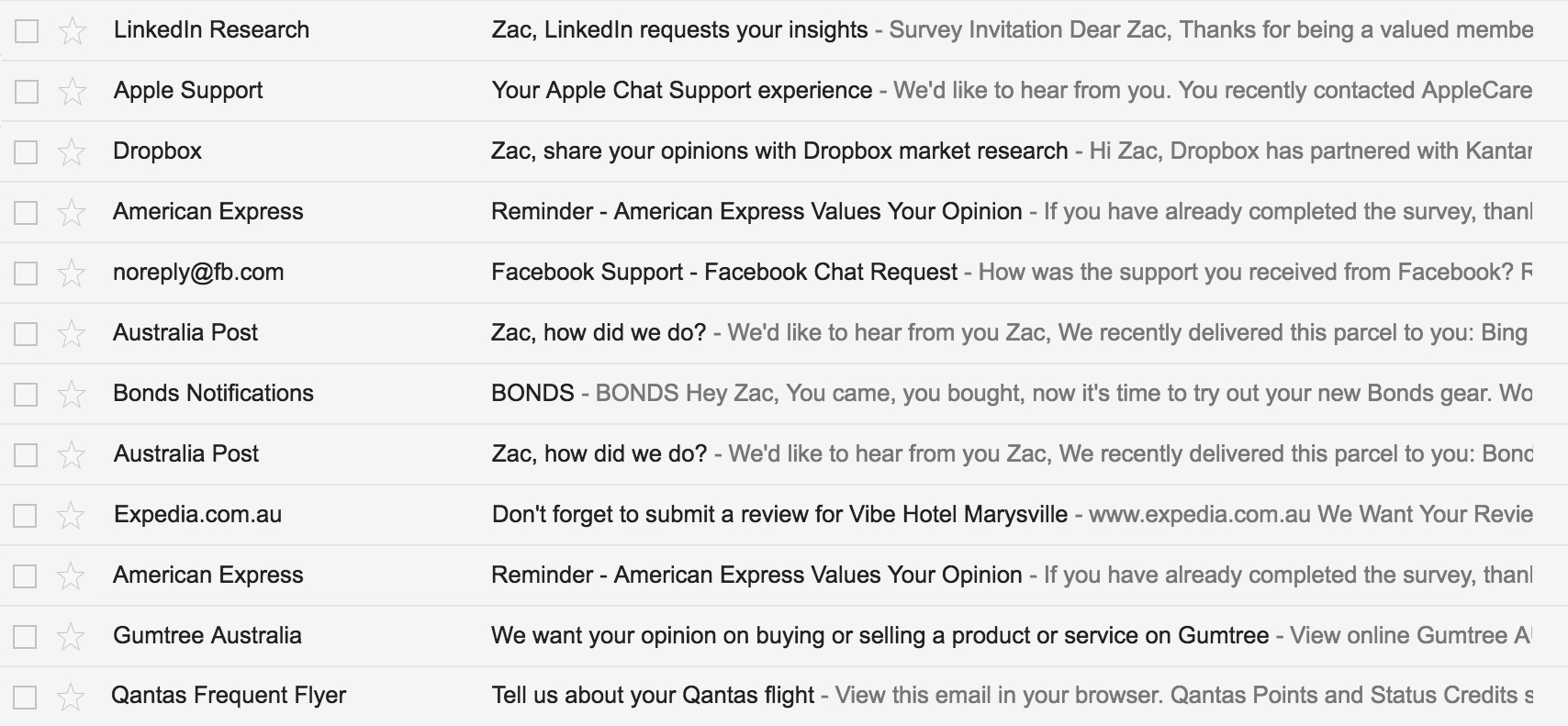 Last year I missed a connection at Heathrow Airport. I sourced the needed documentation, filled in the forms and submitted my $201 travel insurance claim. Four weeks later I got a cheque in the mail for $1. When I enquired why it was so little, they told me there was a $200 excess. I suggested some feedback:
Me: You should consider putting a reminder at the start of the process. It would have saved us both a bit of time.
Them: It's in the fine print of the Product Discloser Statement.
Me: Yeah… I get it… but… never mind.
Good feedback ignored. Which has become the standard, particularly on social media where the general sentiment is "Thanks, we will totally pass that onto someone who matters and definitely not ignore it."
Instead of stopping a moment to listen, businesses are too busy screaming for feedback. Last month Amex sent me three reminders to fill in a survey. Expedia asked for a review when I checked in, when I checked out and then a follow up.
You pretty much can't interact with a business now without being prompted for a survey.
Customer satisfaction surveys. MAKE. THEM. STOP.

— Tom Goodwin (@tomfgoodwin) January 27, 2018
Marketers are too obsessed with their Net Promoter Score. They're not seeking feedback for improvement, they're trying to hit a KPI.
But unsolicited feedback is where the good stuff happens.
One of my most successful strategies used old Facebook comments from customers enquiring about a discontinued product. The client had previously dismissed them with a generic apology. Instead we used them to build a business case to bring the product back for a limited edition run. It was so successful it became a regular, and went on to do more than $4m in sales.
Too many business ignore genuine feedback because they're soliciting feedback that's shit. Imagine a business culture where the brand listened, recognised, implemented and then thanked. Even rewarded.
Instead, we just get fucking surveys. And useless chatbots.