05 February 2011

We're All Wannabe Copywriters

Nearly everyone likes to think they're creative (even if they're not).

I'm certainly one of those people. We like to flex our creative muscles where we can, but never really go out of our way to do so. We express this in the everyday things like updating our Facebook status with something witty. Or writing a funny product review on Amazon. In fact, here are my recent feedback posts on eBay…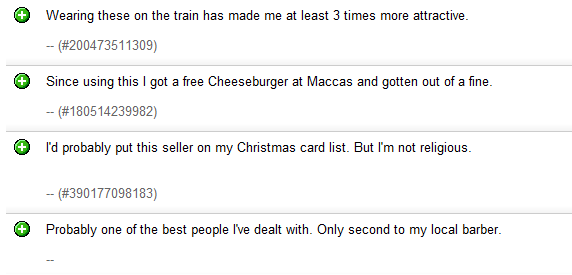 The brands that do community and content management the best are the ones that let their consumers be creative without having to go out of their way. Running a UGC campaign isn't always about asking people to film the next Super Bowl commercial, upload the next big viral on YouTube or be a pro in Photoshop.
Just let their inner copywriter run free. It's usually free (because people like to show off) and it creates good content to feed back into the community.